Metal Slug (Japanese: メタルスラッグ Hepburn: Metaru Suraggu) is a series primarily of run and gun video games created by SNK. Spin-off games include a third-person shooter and a tower defense game. Originally created for Neo-Geo arcade machines and game consoles, the original games have also been ported to other consoles, with several later games created for various other platforms. The games focus on the Peregrine Falcon Squad, a small group of soldiers who fight against a rebel army, aliens and various other forces intent on world domination.
trailer:
As I see it,Metal Slug serie is beeing played mostly by Spanish.Most of the files or info you can find is on Spanish.Anyway series wxists since 1996 and this year is 19th anniversary.And they released a version for PC.It is fifth version available for PC,altough it is called only Metal Slug as it is first one.
Metal Slug is a series of run and gun video games first released on Neo-Geo arcade machines and game consoles created by SNK. It was also ported to other consoles, such as the Sega Saturn, the PlayStation, the Neo-Geo Pocket Color and more recently, the Game Boy Advance, PlayStation 2, iPhone, iPod Touch, Xbox, Xbox 360 and Nintendo DS. There is also an anthology of the first 7 games in the main series (including Metal Slug X) available for the Wii, PlayStation Portable, and PlayStation 2. In 2009, the three first games were officially ported by Games Load to Windows.
Metal Slug Complete PC is a compilation published by DHM Interactive in 2010 for PC's. Much Like Metal Slug Anthology, it features all Metal Slug titles up to Metal Slug 6. However, it doesn't have any extra features.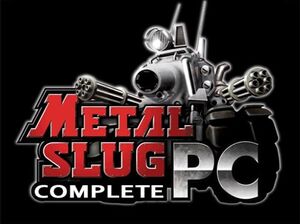 The PC port is noted to have limited credits (the first Metal Slug has four credits only and Metal 2 to 4 have only a total 5 credits) However, Metal Slug 5&6 are the only two titles to feature unlimited credits.
Brace yourself for non-stop battle action in the hit straight from the arcades! In Metal Slug X, you'll chose from four tough-as-nails soldiers ready for missions that only the best could survive. Rescue hostages while blowing terrorists back to the stone-age using your personal weaponry AND their own machine
Metal Slug 3, one of the crown jewels in SNK Playmore's retro video game catalog, remains an exciting, well-crafted experience more than a decade after its original Neo Geo release.
developer:Nazca Corporation
publisher:Nazca Corporation
date of release:

25.june 2015 for PC